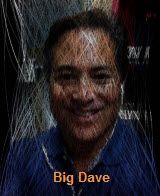 I created this site back in 1998 but did not put it out there seriously until around the fall of 1999. Back then it was called "Big Dave's Miami Dolphins Web Site". A few years later I had some buddies such as Doug Ford, the original owner of Phinatics.com , who frequented my forum, brainstorm with my other forum members to come up with a name that would be easy to remember and find on the web. That's where the name "Phinfever" came from and the theme "Catch the Madness". Madness is what our addiction is.
The " Wayback Machine " recorded our old web page data of our site all the way back to 2004. Feel free to check it out if you are interested in seeing any old looks to our site. You'll get a good laugh.
Helping each other was something we would always do as we tried to catch up with the ever popular Finheaven . The late Tom Eddie (T-Rock) helped Doug to streamline the look of his site back in the original days, and we both worked with James Lancaster (JLFINFAN) to promote our 3 sites. Through it all we would go to Curt Fennel's "Phins.com " site to get the latest news on who the Dolphins signed and drafted. Most importantly was Curt's opinion on the importance of each addition and subtraction from the team.
Anyways, I'll get more indepth about the origins of this site soon to give you something else to read during these dry times, but I wanted to let you know that the purpose of this site was to share everything that I learned about the Dolphins and to find a way to make friends with other Dolphins fans since I lived in North Carolina.
I came up with a very important tool to help you all keep in touch (aside from our forum) and it was a browser toolbar. I keep it updated and am always adding new relevant links or removing dead links. So, I want to encourage you to download and install the Browser Toolbar.
There is no spyware or anything that will spy on you. It integrates very well with Firefox, Internet Explorer, and Google Chrome. You'll love it and find it very useful. I do not get a penny from it even though there is a way to generate revenue from it. I do not want to add anything more to it than relevant links on our Dolphins. Even though I've put hours and hours into it, the best thing about it is that it is free.
By the way, in my quest to give you all the information I have all of the fan sites listed as they are all of good quality. I go to most of the other fan sites from time to time, and so should you.
So, as an example, if you wanted to go to the official Miami Dolphins web site, you would click on "Links" and then click on "MiamiDolphins.com". Simple as that.
Here is how you download it and keep informed on the Miami Dolphins:
Download the Free Phinfever Browser Toolbar