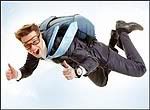 Last week I made the statement that slow and steady wins the race. I asked a friend to read my article last week and their comment was "That's not you". I couldn't argue because they were right. I'm slow and steady to a point, but every now and then I step out of my comfort zone and take a risk. Sometimes those risks work out, sometimes they don't. Life without risk though is one that has few rewards.
Managing a football team is a lot the same way. At some point you have to take a few risks. Irelands Gambit is that neither Peyton Manning, nor Matt Flynn were worth throwing money at. Furthermore, he felt the price to move up and grab RGIII was too high. In this high stakes game of off-season poker, Ireland took no cards and stuck with the hand he already has. It is being construed in the media as the Miami Front Office (FO) is incompetent. That they don't have the ability to land their guy. With each apparent failure, the media jumps at the chance to denigrate Ireland and Ross which further raises the overall stakes of Miami's immediate future.
The draft is just around the corner and by drafting a guy like Tannehill they would offer some analgesic balm to the fanbase but it still leaves Matt Moore as the guy. Ireland has put a lot of stock in Moore. His thinking has to be if they're fix the OL and add a few good defensive players, then Moore has a shot to make everyone forget the QB circus of this off-season. However, if he fails and Miami has a bad year, it could mean a front office shakeup. You think the fanbase is unhinged now? How do you think it will be if say..either the Broncos, Seahawks or Redskins make the playoffs? If the game is Texas Hold'em, then Ireland is all in. Dumb? Incompetent?....or gutsy, I'll let you make the call. One thing is for sure, Matt Moore must definitely be feeling the love at the moment. His FO has his back.
Finally, if I've been taught one thing recently, it is that life is mean't to be lived to its fullest potential. So whatever challenge is facing you now, take the risk. Grab the bull by the horns and hold on. If you end up falling, get back up and do it again. Once you step out into uncertainty, the very fear that kept you inside life's boundaries, will drive you to the top of the mountain. Enjoy this video of pushing limits....
....now to go book that shark dive!!!
---------------------------------
Download the Free Phinfever Browser Toolbar


I really can't get along without the browser toolbar. It has all the important links on it. I'm not selfish, I even have all the other Dolphins fan sites on it. There's a lot of draft links, rss feeds, and a cool email program that lets you know when you have mail. And NO spam or spyware. It works for Firefox and Internet Explorer. So, enjoy!