Alright guys, we are now a few weeks away from the draft and the usual is ongoing for the NFL as we work our way to the draft. As Alexander O'Neal would say, "It's Lying Season". This team is interested in this player of this team is targeting this player.

I am going to post this on the front page on Saturday, but I wanted to post it here 1st and give you guys something to debate about.

1) C.J Mosely, ILB, Alabama - I know Mak will have a heart attack seeing this, and we ALL know Miami has needs on the offensive line still. That said, the OL personnel is much deeper than the personnel at ILB. I think Mosely can be a difference maker and the Dolphins linebacker play was dismal in 2013. Does no good to have a very good pass rush when teams can gash you with the run game. The Dolphins were 20th against the rush in 2013 and have been in decline the last 2 years.

2) Cody Latimore, WR, Indiana - WR Brandon Gibson & Brian Hartline are coming off of knee injuries and there is a concern about there availability for camp. Miami also needs that big Red Zone threat WR. Latimore fits that mode and more. He has solid speed, is a solid route runner and has very good hands.

3) Jack Mewhort, ORT, Ohio State - The Dolphins address the ORT need with a big, physical OLT that will convert to ORT in Mewhort.

4) Dri Archer, RB/WR/PR, Kent State - The Dolphins and the Bengals have shown a lot of interest in this versatile, explosive little blazer. Rushed for over 1400 yards his junior year and had 99 career catches and 4 return touchdowns. 4.26 40 speed, and more importantly, plays to his timed speed. Tremendous speed and big play ability. Gives Bill Lazor a dangerous weapon to work with. I know the Dolphins have looked at Towson RB Terrance West as well.

5) Trai Turner, OG, LSU - The Dolphins add another big, talented piece to the offensive line with this mauler from LSU.

6) Antone Exum, CB/S, Virginia Tech - Has played CB, but has the size to convert to S, which some think he will eventually end up at. Credit to Mark, aka swerve13 for this pick. Has the ability to play in the slot, as he was a CB at VT.

7) Isaiah Crowell, RB, Alabama State - 5 star recruit coming out of Georgia, he verbally committed to Georgia. Was dismissed from the team for felony weapons charge. That why this big, talented back is at this point in the draft.

I will do another one the week of the draft. Everything is still very fluid and a lot still can change.
_________________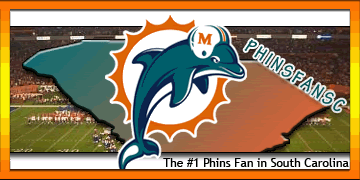 Last edited by phinsfansc on Thu Apr 24, 2014 11:55 pm, edited 2 times in total.