As the playoffs are taking place this weekend, once again our Miami Dolphins are on the outside looking in. Miami has not been in the playoffs since 2008, which was a one and done.

Us Dolphins fans are now looking forward to the NFL Draft and Free Agency. Free Agency will shape what direction the Dolphins will go in the draft to a large part. I believe the Dolphins will look to sign a WR in free agency, and I would not mind going after 2. This draft is not loaded with impact tight ends, so I hope the Dolphins look to address that in free agency as well.

This will change MANY times, as we have not even started the free agency period, but I wanted to go ahead and put something out there. One of our board members, swerve13 put out one that looks pretty good, and gave me the idea to go ahead and get a very, very early mock up.

Let's take a look at what I think can happen with the Dolphins.

1) Enkezial Ansah, DE, Brigham Young, 6'5, 270 lbs. - A rare physical speciman with freakish speed that is just learning to play the game of football and joined the team at BYU 2 years ago. Has and will see many comparison to Jason-Pierre Paul. Miami had 44 sacks in 2013, which ranked 10th in the NFL. Still, Cameron Wake is the dominant force, and in the last regular season game against New England, the Dolphins did not have a sack. This is a passing league, and the pass rush has to get better. In his first full season of playing, he had 13.0 tackles for loss, 4.5 sacks.

2) DeAndre Hopkins, WR, Clemson, 6'1, 200 lbs - There is no question in my mind that the Dolphins will add a WR in free agency and look to re-sign WR Brian Hartline. Still, I believe Miami will need to add one more potent WR. Hopkins had 72 catches for 978 yards and 5 TD as a sophmore, 82 catches for 1,405 yards, 18 TD and a 17.1 yard per catch average including the bowl game his junior season. Size, speed, solid hands, Hopkins has it.

2) Jordan Poyer, CB, Oregon State, 5'11, 190 lbs - Sean Smith is a free agent, and negotiations have gotten off to a slow start with the sides far apart. Miami has a need for cornerbacks and Poyer is a solid CB with 7 career interceptions.

3) Brennan Williams, ORT, North Carolina, 6'7, 315 lbs - Nate Garner is a free agent, and while he did play pretty well once the Dolphins moved Jonathan Martin to OLT, Garner is more of a backup OT. It seems like the Dolphins have been trying to solve OL problems since since 2008, and they still need to get that issue resolved. New England had 7 sacks in the last game of the year. Part of it was coverage sacks, but the OL had their probems in that game as well.

3) Alvin Bailey, OG, Arkansas, 6'5, 315 lbs - Bailey has the size to play power football, but more importantly with the zone blocking scheme the Dolphins have in place, the quickness. He has played both ORG and OLG spots.

4) Sanders Commings, CB, Georgia, 6'1, 216 lbs - Georgia has been good to Miami with the addition of FS Reshad Jones, and as we mentioned earlier, the Dolphins need cornerbacks. Commings is a big corner with nice ball skills, as he has 8 career interceptions.

5) Devin Taylor, DE, South Carolina, 6'7, 267 lbs - A talented enigma that has been overshadowed by one Jadaveon Clowney, who will be without a doubt the 1st pick in the NFL Draft in 2014. As his career 21.5 sacks show, he can get to the quarterback. That being said, much more was expected of Devon, especially when you consider he was playing accross from Clowney in 2012, a year in which he only had 6 sacks. But he has tremendous upside and athletic ability, as he has an interceptions return for TD.

6) Due to Vontae Davis not meeting playing time requirements, the Dolphins will not get the conditional 6th round pick from the Colts.

7) Jonathan Stewart, ILB, Texas A & M, 6'4, 245 lbs - Miami needs depth at the ILB position, and this would be a solid pickup for the Dolphins.

7) Anthony White, DT, Michigan State, 6'2, 330 lbs - Dolphins like DL personnel and will likely lose DT Tony McDaniel. White gives them a DT that can anchor against the run.



April can't get here soon enough.
_________________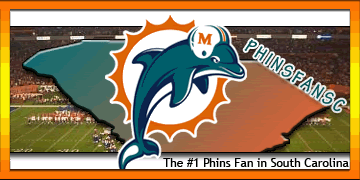 Last edited by phinsfansc on Sun Jan 06, 2013 7:49 pm, edited 2 times in total.