Sorry for breaking our rules and posting the full article, but I didn't know how to break it up. Pete Prisco writing a good article on the Dolphins? Mark this one down.
After Further Review: Miami's huge interior linemen the secret to stingy defense
The NFL has become such an edge game -- one of big passing numbers and sack artists getting all the attention -- that we sometimes don't give the guys inside on defense the attention they deserve.
Anybody who follows the Miami Dolphins, or studies their tapes, knows that the key to the Miami Dolphins success on defense isn't the great pass rusher (Cameron Wake) or the good cover corner (Sean Smith), but the two inside tackles, 600-plus pounds of brute force.
Their names are Paul Soliai and Randy Starks.
Without them, it's hard to imagine the Dolphins being 4-3 and one of the surprise teams of 2012.
Miami's defensive numbers aren't great. They are 22nd in total defense and 27th in passing defense. So how come they are fifth in points allowed?
It's because Starks and Soliai help choke off the other team's run, which puts them in passing situations on third down. You know who leads the NFL in third-down defense? Yes, the Miami Dolphins.
In studying Dolphins' tapes, it's easy to see why Miami is so good at stopping the run. Soliai is a power player who has to be doubled a lot and usually can handle it. Starks is a strong player as well, but he also has good quickness inside.
Those two help free up linebackers Karlos Dansby and Kevin Burnett to get to the football. It also helps to make Wake that much more effective because he can pin his ears back on third-and-long.
Defensive coordinator Kevin Coyle, who came over after being the secondary coach of the Bengals, does some nice things to help keep offenses off-balance. I will show some of those here in a bit.
It all starts with the two big guys. It's nice to have Smith playing at a high level and to see the development of young safety Rashad Jones in the secondary. But it sure is nice to be able to play in the back end when you know a team has to throw. The Jets had 18 first-half rushing yards as Miami jumped to a 20-0 lead last week.
Here's a first-down play from last week's victory over the Jets that highlights Starks.
It is a run to Shonn Greene. Starks (yellow circle) is matched in man-to-man blocking with left guard Matt Slauson. Starks abuse him. You can see by the three pictures sequenced below that Starks attacks Slauson, sheds him and is quick enough to make the tackle on Greene. That's impressive.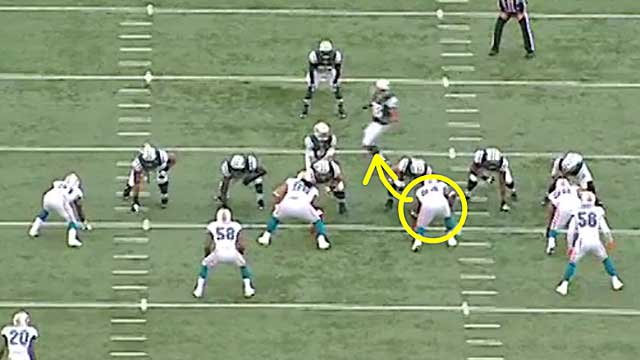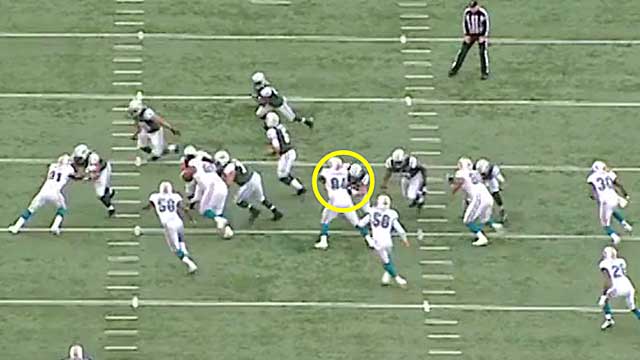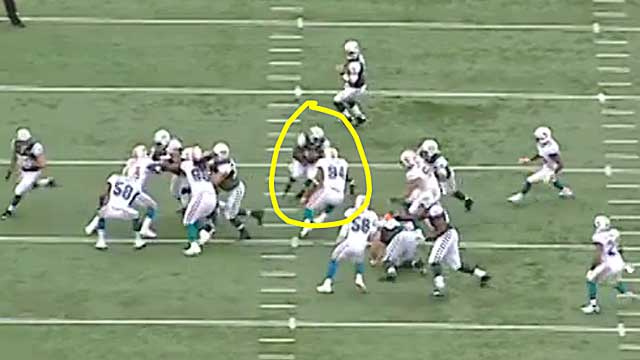 Here are a couple of shots that show Coyle's creativity.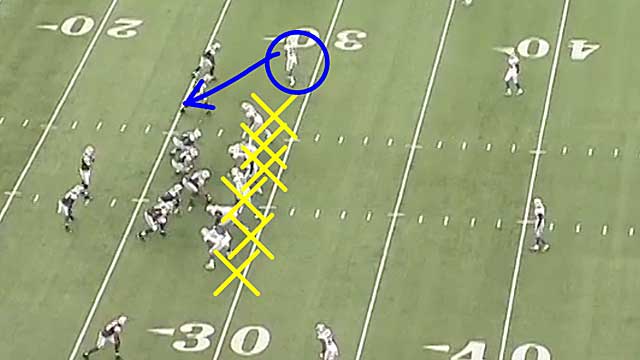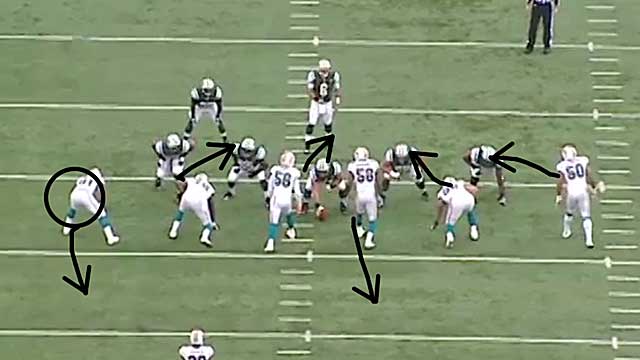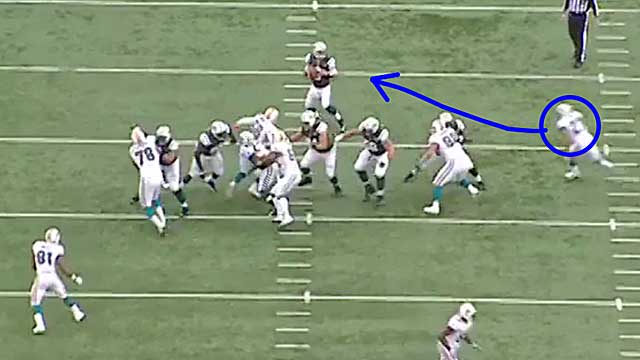 On a third-down play, the Dolphins line up with six defensive players in the box. They are in dime coverage, so two linebackers are in the box with six defensive backs. The defensive back in the blue circle is corner Jimmy Wilson, lined up in what looks to be man coverage. But at the snap, you can see the wrinkles.
The end-zone angle shows Dansby and Wake both drop out, while Burnett and Wilson blitz. You can't see Wilson in the second frame, but in the third you see him coming off the edge to dump Mark Sanchez, who didn't have a receiver open.